PHOTOGRAPHER IN TOKYO GIANCARLO MARINO
My name is Giancarlo Marino. I'm a fashion, editorial, beauty & swimwear photographer in Tokyo Japan.
About My Style As A Fashion Photographer
My work has been described classic, romantic and clean. In addition, some people say my photos are hard and sometimes dramatic. These are all the qualities that make up the perfect image. As a result, I nail it every time. Very important for a fashion photographer.
Where I Come From And Where I started As A Photographer
I was born in Napoli, Italy. I picked up my first camera at age 12. My weekly allowance was small but I used it to by my first camera. It was a Kodak camera. I began photographing the beauty that surrounded me in my hometown. I really wanted to become a fashion photographer. So in high school, I began to take interest in the beautiful Italian designers. I saw them in fashion magazines such as Vogue. Being Italian, it was love at first sight.
Where I Learned How To Be A Professional Fashion Photographer
I studied and obtained a Bachelor degree in Photography at IED Milano. Right after that I left Italy and moved to Los Angeles. I was glad to get the opportunity right away to work for famous fashion photographer Jerry Avenaim as an assistant for a little over a year. Sometimes during my shootings I still use some of the many advices I received from him.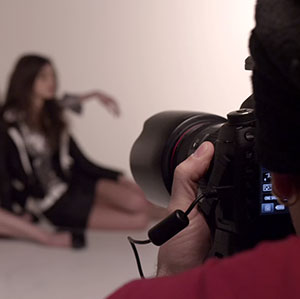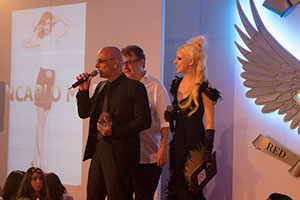 Where I Worked As A Fashion Photographer
As I started working as a fashion photographer, I was offered advertising campaigns such as Armani, Diesel, Banana Republic, etc. I worked with magazines such as Elle and Vogue. I worked in the Italian and US fashion industry for over 20 years. After that, I moved to Japan. Now, I work mostly in the Asian fashion market and I still currently reside and work in Tokyo as well.
In Conclusion About Me And What I like
I always loved traveling the world. In fact I have been almost anywhere. My work gives me the opportunity to travel all the time. I love to stay at the most amazing hotels. My hobbies are soccer (Napoli is my team), tennis and surf. I love riding my 2 Harleys.  Other thing I like are drinking and dining with friends and watching movies.
I love my family. I enjoy my work fully and I love cats and dogs. Hey… by the way….I love shooting cherry blossoms on my phone when I have some free time from my busy schedule. That reminds me why I live in Japan.
TIMELINE:
Born in Napoli, Italy.

Attended and graduated from the Institute of Arts in Napoli.

Attended IED Milano (European Institute of Design). Three years Bachelor degree in Photography.

Worked as a freelancer photographer for several Italian Fashion Magazines. Vogue Italia, GQ Italia, Vanity Fair Italia, Marie Claire Italia, etc.

Moved and lived in Los Angeles.

Assisted fashion and celebrity photographer Jerry Avenaim.

Worked as a freelancer photographer for several US, European and Asian Fashion Magazines and brands. Elle, Vogue, Harper's Bazaar

, Marie Claire, Diesel, Banana Republic and Armani.

Attended UCLA. Five years Master Degree in Computer Science.

Moved and lived in Honolulu Hawaii.


Moved and currently living in Tokyo Japan.

Currently working as a photographer all over Asia. Some of the brands include Roen, Venus Swimwear, Clear China, Hera Cosmetics, Zara Korea. Some of the magazines include Marie Claire China, Elle Korea, In Style Korea, Style Singapore, Harper's Bazaar Singapore, Jessica HK, Esquire HK, etc.
My main area of expertise is Fashion, Editorial, Beauty & Swimwear Photography

WHAT PEOPLE SAY ABOUT ME:

Giancarlo Marino is truly an outstanding photographer (and wonderful person). He has an almost mystical ability to capture the true nature of fashion. We'd recommend him to anyone! – ELLE KOREA

Giancarlo Marino's photos are STUNNING! They are all just spectacular. We are really grateful. You are just a great photographer Gian! Just very talented. We can't thank you enough. Thank you! – ZARA KOREA

You have exceeded everyone's expectations at our March editorial photo shooting! Thanks a million" – HARPER'S BAZAAR SINGAPORE

It was so amazing shooting with Giancarlo! I kept looking for photographers based in Tokyo Japan who would understand what I wanted but I could only find wedding photographers on Google or photographers who did not catch my immagination when looking at their portfolio online. I finally found Giancarlo Marino. I came out from New York to start my modeling portfolio. I love how he captures the inner self of an aspiring model. – JENNY H. / MODEL

Even if I had no experience Giancarlo has the ability and patience to direct a total beginner. He knows how to make her look like she has been modeling for years. He is very thorough and planned every look with me over the phone so that he was totally prepared when I arrived. We shot many different looks as well as some sexy bikini shots. – CHRISTINE F. / MODEL

My experience with Giancarlo was absolutely beneficial to my photography. I feel lucky to have learned so much useful information in these two days. It would have taken months or years to learn this on my own through constant trial and error. In less than a years time I am now shooting paid tests for some of the prominent modeling agencies in San Francisco. I owe so much of this to Giancarlo as he has been a great teacher, mentor, critic and friend. TAKESHI K. / TOKYO PHOTOGRAPHER

My photography workshop with Giancarlo Marino was an exceptional experience. I flew out from California and we packed an amazing amount of shooting. For me, what I took most out of the 5 days was really comprehending Giancarlo's lighting techniques and how he directs and gets what he needs from his models. I strongly recommend this course to anyone wishing to enhance his or her skills. – JASON F. / FASHION PHOTOGRAPHER
TOKYO FASHION PHOTOGRAPHER GIANCARLO MARINO
Calls from Japan:
090 2333 2934
Calls from outside Japan: +81 90 2333 2934
E-Mail: info@giancarlomarino.com
For U.S.A. and Italy contact numbers please visit the "Contacts" page.